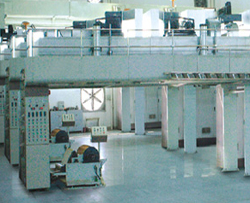 BRIDGE STAMPING FOILS attract and create visual interest and appeal. They are a natural choice when considering adding value, decorating and/or enhancing products. You will find our stamping foil are manufactured for superior performance and reliability. Our hot stamping foil are also designed to be compatible with a wide variety of substrates and applications- making stamping with BRIDGE FOILS easy and efficient.
"Our aim is to make it right and deliver it on time"
EnglishEspañolРусский
We offer multiple plastics formulations that will meet any of your specific physical and or technical requirements. We carry products for the cosmetics, interior, exterior, automotive, trash can, medical, writing instruments, appliance, toy, trophy, badge/id cards, plastic cards, wire and cable marking, tools, license plate frames and sporting goods industry.

Our goal is to help make your stamping foil and lamination processing easier and more profitable. We are foil people. We live and breathe stamping foil. We are extremely knowledgeable and even more helpful. If you give us the opportunity to earn your business you will not be disappointed.

Separate yourself from your competition. Discover the ease and effectiveness of a high impact engagement with BRIDGE STAMPING FOILS.

BRIDGE stamping foils is ready to be your reliable partner.
HOT STAMPING FOIL FOR PAPER
HOT STAMPING FOIL FOR TEXTILE
HOT STAMPING FOIL ROR PLASTIC
Holographic Foil
Holographic foil for your successful brand management design elements with changing optical images - from BRIDGE provide an attractive and cost-effective way to enhance your product.Varioustechniquesare available to customise the hologram to your market requirements. At the same time the product becomes more difficult to counterfeit. The hologram is thus an effective means of strengthening brand identity.

Pigment Foil
Pigment foils should always be considered when printing on dry or textured papers & boards. Strong uniform colour is achieved. Lithographic inks often look dull or lose their strength of colour and screen printing is not without its problems. Hot foils is a dry solvent free option with no lengthy setup time or cost.Fields of application are graphics, plastics, promotional items, coding & self adhesive labels

Security Foil
The melton fabric is one kind of woolen fabric with high quality. Its surface is fine clean smooth and flexible protection. At bottom has fine – grained fluff .It has feature of duration warm-keeping, anti-water and anti-wind without napping. So Melton is one of top-class woolen fabric. Fine clean smooth surface with flexible protection. Fine-grained fluff at bottom. Duration, warm-keeping anti-water, and anti-wind cannot afford ball...
Bopp Thermal Laminating Film
BOPP thermal laminating films are lamination films having BOPP (biaxially oriented polypropylene) as base material. We use extrusion coating process to combine layers of BOPP film and thermal laminating adhesive(EVA). In the final film one side have properties of BOPP film and the other one becomes heat sensitive surface used for dry lamination.BOPP Thermal Laminating Films are more economical over laminate with excellent clarity and brightness.

Pet Thermal Laminating Film
PET thermal laminating films are used to get some properties which are available in polyester. Some main properties like high gloss and high stiffness are not in BOPP films. For making PET thermal laminating films we need to follow coextrusion process.